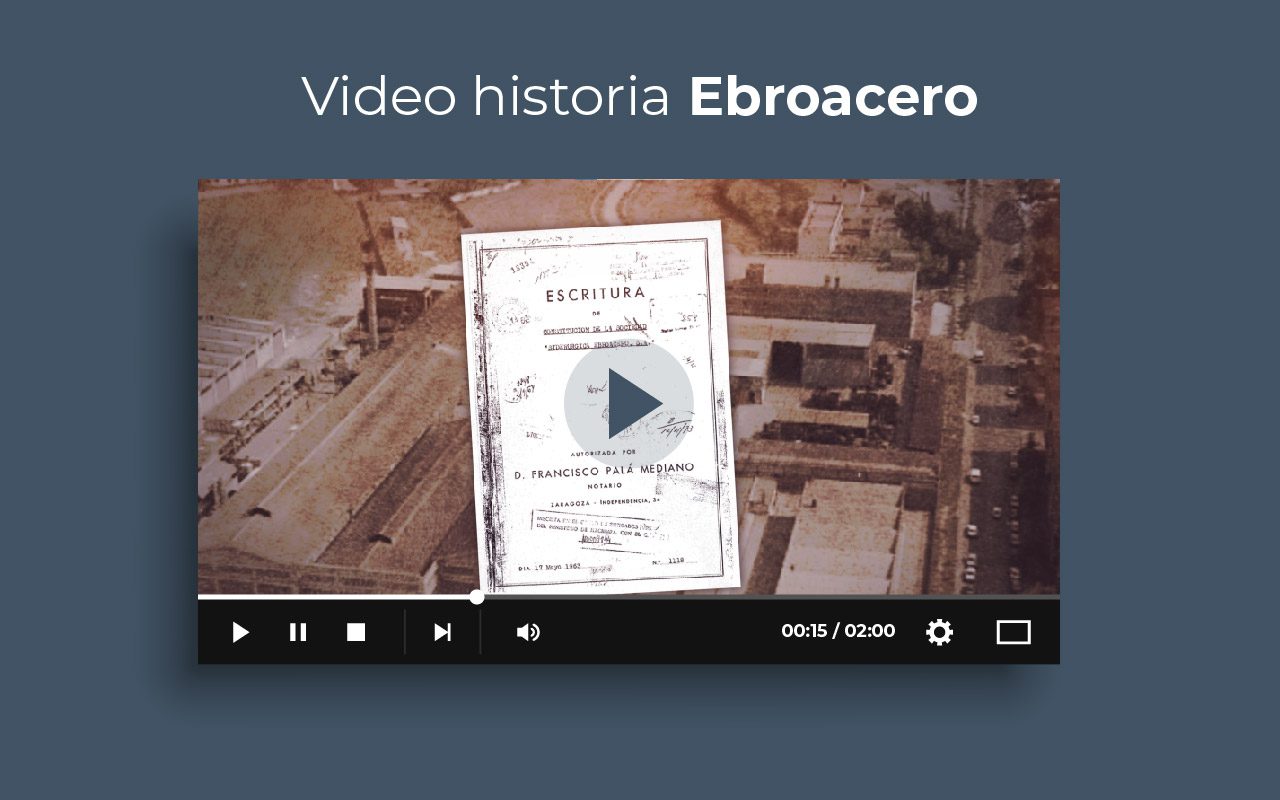 Our history
The history of Ebroacero began 60 years ago. When a group of executives from Mercier Workshopsa company dedicated to the manufacture of capital goods for the industrial sector and located in the Argualas industrial park, identified the need for a foundry to supply them with steel. Fourteen people got together and founded Siderúrgica Ebroacero S.A., with a capital stock of 21 million pesetas. Initially, the company worked mainly for Talleres Mercier, but gradually began to manufacture parts for other customers.
After obtaining all the necessary permits to carry out their activity, they acquired the first melting furnace for two million pesetas. In 1976, they changed their name to Ebroacero S.A., confirming their focus on the manufacture of cast steel. Six decades later, it has become one of the country's leading foundries. It specializes in the manufacture and supply of steel castings up to 14 tons, both in the rough cast and machined state.
The company works in different sectors such as:
Offshore.
Naval.
Cement.
Mining.
Valves.
Oil platforms.
Hydraulic installations.
Fluid control.
Power generation.
Paper industry.
Sugar industry.
It exports to more than 30 countries. Its expansion in recent years has allowed a remarkable growth, but its focus on exports goes back a long time. They have had a department specifically dedicated to this area for more than 30 years. In fact, the company's managers are constantly traveling to other countries to learn about new developments and the needs of each sector in different parts of the world.
This family-owned company has managed to maintain and grow thanks to exports and diversification. Despite the economic ups and downs it has faced at certain times in its history, such as the economic crisis that began in 2008.
Video History of Ebroacero
Investments in recent years
During the last decade, significant investments have been made in Ebroacero. A large fume aspiration system was installed in its facilities, at a cost of one million euros. A loading machine with a capacity of 30 tons was also acquired for water quenching. Thanks to this, they have been able to supply parts for offshore projects with high mechanical requirements.
In addition, a 25-ton shot blasting machine was added for sustainable cleaning of parts, and part of the crane fleet was renewed. The melting furnaces, which are essential in the manufacturing process, are constantly being maintained and overhauled. It is important to highlight Ebroacero's commitment to quality. This is evidenced by its laboratories and quality control department, which guarantee compliance with all customer demands.
Since its inception, the company has worked with the most advanced and efficient technical means. This is considered a priority along with safety measures in the workplace and the quality of materials. This rigorous approach has enabled them to remain in the market and to forge a reputation of trust and reliability among numerous players in the sector.
Transformation to a sustainable foundry
In addition, Ebroacero's track record has been recognized with several awards that highlight its importance in the sector and in the business fabric of Aragon. These awards include:
ISO 9001 certification (obtained in 1997).
ISO 14001 certification (in 2014).
Zaragoza Chamber of Commerce Export Award (2017).
Aragon Social Responsibility Seal (renewed from 2019 to present).
Silver medal in the Ecovadis sustainability rating (2022).
Aragón Circular Seal (2022).
These awards recognize the company's commitment to the pillars on which its business is based:
Circular economy.
Sustainability.
Corporate Social Responsibility (CSR).
Ebroacero's business strategy is based on ESG (environmental, social and governance) criteria. In 2021, it took an important step towards the efficiency of its industrial processes. To achieve this, it installed a system in one of its furnaces that helps reduce its carbon footprint and increase its production capacity. Thanks to this, thermal losses have been reduced by 59%.